Our intended training room has served multiple uses since we completed it; volunteer hang out space, kids party venue, bedroom, storage space, cinema and even a training room where we've hosted three Permaculture Design Courses. But all would probably agree that proper doors would help no end with keeping the temperature steady.
Cue Pete, recent creator of Blue's new kennel.
Doesn't he make it look so easy? There's even a cat asleep on his lap!
Shortly later, as if by magic, the training room has a shiny new door 🙂 Aren't those door handles beautiful?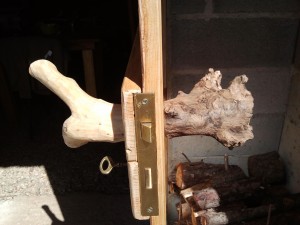 In the terrible rain we've endured recently, having a solid door has made a huge difference to everyone's comfort. It's  great to get it complete before this year's courses kick off. Many thanks indeed Pete.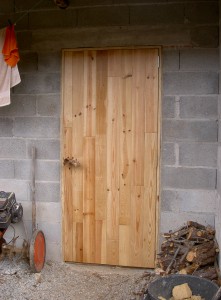 We've made a stove in there too, but more on that another day.