Blue needed a home. Pete needed a project. Blue reminded us that volunteering at Casalinho isn't just about goats!
Blue's new house is based on an old pallet and uses leftover planks and greenwood for the structure. Coloured offcuts from other projects create the lovely shingles effect. Finally, it's roofed with broom over some old lino and there's a sheet of thick plastic scavenged from rubbish making the floor. Pretty flashy for something made from bits and pieces, don't you agree?
Blue does! That's one very happy dog, and a dry one too 🙂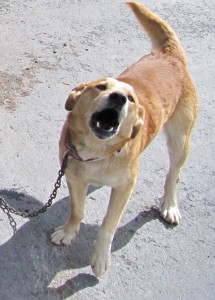 Whilst I have your attention ;), can I interest you in your own little Blue? Blue's little nephews and nieces will be available to leave their Mum shortly and need nice new homes.