We're offering three opportunities to join us for a fully certified Permaculture Design Course in 2017. All PDCs follow the minimum 72 hour curriculum set out by the Permaculture Association, plus much much more. On completion you will receive the internationally recognised Certificate in Permaculture Design, accredited by the UK Permaculture Association.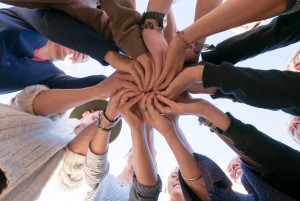 * 10 day Permaculture Design Course – Friday 9th June – Sunday 18th June 2017

This is an intensive course, ideal for those who are time short or just prefer a more intense experience. We'll be immersing ourselves in permaculture for the nine taught days of the course using a variety of classroom based and outdoor activities, and we'll have a free day mid course to rest and rejuvenate or to explore our beautiful local area.
Minimum donation – 450€ *
* 16 day Permaculture Design Course – Saturday 29th July – Sunday 13th August 2017

This is the longest format Permaculture Design Course we are offering at Casalinho in 2017. A combination of theory and practical sessions, as above, but with the extra days allowing more time for exploration, discussion and optional additional practical activities. And of course, more time to appreciate the beautiful local area Casalinho is situated in!
Minimum donation – 630€ *
* 12 day Permaculture Design Course – Friday 18th August – Tuesday 29th August
facilitated by Josh Gomez together with your hosts at Casalinho, Andrea and Jeroen.

This course will be taught over eleven full days, with a free day mid-point. Offering much more than the standard 72 hour syllabus, you'll experience a combination of theory and practical sessions with plenty of time for exploration and discussion in a glorious setting.
Minimum donation – 510€ *
For photos of our 2016 PDC with Josh at Casalinho, see this gallery on our blog.
* We do appreciate that cost can be a limiting factor for some people. Our summer internships scheme is a lower cost route to accessing a PDC.
We also offer a 20% discount on PDC prices for those who combine with our 4 week Self Reliance Experience.
What is Permaculture?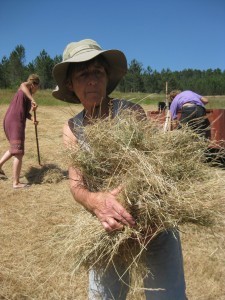 Permaculture is a sustainable design system that provides for human needs while having positive effects on the surrounding environment. It is based on the ethics of earth care, people care and fair share, and provides practical solutions to the global crises we are currently facing.
Who is the Permaculture Design Course for?

Permaculture is for EVERYONE, regardless of their education, background, or previous experience.
Permaculture is NOT just about trees, or just about gardening! You don't need loads of land to practice it and it's a design method that can be applied to all social systems. Whatever your plans for the future, the Permaculture Design Course will give you the perspective and tools required to find positive solutions towards a sustainable life.
About your lead teacher, Josh Gomez
Josh Gomez will be leading the teaching on our 12 day PDC in 2017. He first discovered permaculture in 2005 and first taught with us at Casalinho in 2012.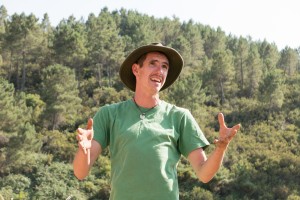 Josh prefers the title educator rather than a teacher, as he's more concerned with helping people to unlock their own passions and skills, enabling them to also become educators of the things they are inspired by, through permaculture.
His approach of integrating games and group challenges in the course program reflects his joyful and playful personality. Josh uses a wide range​ of teaching methods like digital presentations, practical activities, discussion/constructive debate, games, whiteboard design sessions, videos, observation exercises, guided walks and working in small groups.
Josh says "When collaboration happens the whole thing just radiates and that would be my simplest definition of community, as all involved get that sense of co-interdependence that is also present in any thriving ecosystem. Each part plays it's own unique role on every level, from crown leaf to tap root. Becoming a creator, producer and provider, rather than just a consumer; becoming an individual part of the solution rather than just part of the problem. I'm very grateful for my life and feel immensely privileged to work with nature every day and to be able to do the thing I love by facilitating these courses and helping people realise their dreams in creating their ideal habitats through designing and implementing abundant permaculture landscapes and meeting many amazing people along the way to share and learn with."
During Josh's course we will spend a significant amount of hours with the knowledge and legacy of Bill Mollison but we will also get our hands dirty on the land, solidifying our new knowledge with some practical experience.
About your hosts at Casalinho
Andrea and Jeroen are your hosts here at Casalinho. Andrea's PDC with Patrick Whitefield in 2011 inspired her so much that she insisted Jeroen also do one. A course was arranged with Lesley Martin later in 2011, and the first PDC taught at Casalinho was born! In 2012 our eldest son also achieved his PDC here, making him one of the youngest graduates at that time. We have now successfully hosted nine PDCs here at Casalinho plus various other related workshops. We're now working towards the Diploma in Advanced Permaculture Design with Casalinho as our focus. We're assisted in our projects by the international volunteers that we host, a fabulous opportunity to bring permaculture to a wider audience and expose ourselves to new ideas and inspirations. The rest of this website should give you the flavour of our project.
About the course syllabus
These Permaculture Design Courses are based on an international syllabus and will  include:
Introductory– Permaculture ethics – Approaches to design – Guiding Principles of Permaculture – Biodiversity – Learning and Study strategies – Pattern in Design – Wilderness and wildlife
Cultivated Ecology – Permanent Pasture – Forest Gardens – Horticultural techniques – No-till cultivation – Biological pest control
Climates – Strategies for different Climates – Micro-climates
Buildings and Structures – Urban Permaculture – Appropriate technology – Waste reduction – The home and workplace – Energy efficient planning – Waste recycling and disposal
Soils – What is Living Soil? – Soil regeneration techniques and Soil Conservation
Water in Landscape – What is Living Water? – Water conservation, collection and storage – Waste water and sewage treatment – Aquaculture
Forests and Trees – Energy transactions of trees – Woodland establishment – Types of forest – Woodland management
Invisible Structures – Real Wealth – Land access – Formal/informal economy – Community development strategies
Design Workshop – Design process and Presentation Skills – Maps and Overlays – Surveying – Project Planning
As well as this, included are many other relevant subjects and a range of practical exercises which aim to give each student a tool kit of basic skills, making them both competent designers and confident in the implementation process of design.
We use a wide range of teaching methods, including:
Digital presentations
Practical activities
Discussion / constructive debate
Games
White board sessions
Observation exercises
Videos
Guided walks
Working in groups
Booking
Included in your course:
Permaculture course tuition, practical sessions and certificate.
Camping space for your own tent. Caravan or dormitory accommodation is available at an additional cost.
Use of compost toilet and solar shower.
Vegetarian meals. Additional meals available at a small cost if you wish to extend your stay with us following the course, or are joined by a non-participating guest.
It is assumed that you will arrive the evening before your course begins, and depart the morning after as this is compatible with local public transport.
Places are limited. Contact us via email to reserve your place and we will provide you with bank transfer details. Or telephone us on (00351) 235512171 or 934542254 (mobile).
A minimum deposit of 50% is payable at time of booking for all courses and workshops, with the remaining 50% payable on arrival. When your deposit is received we will acknowledge it by email and confirm your place on the course. Payments cannot be refunded for cancellations by the student less than 10 days before the course commences or once the course has begun. We reserve the right to cancel the course and refund monies paid in the event that insufficient bookings are confirmed or other unforeseen events make it's running impossible . We cannot be held responsible for other costs.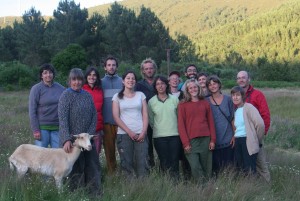 PDC class with Lesley Martin & Bonita the goat. Participants have joined us from Portugal, UK, Australia, Philippines, China, Norway, Holland, Italy, Spain, Israel, Brazil, Hungary, Denmark and USA.