This is part of a series of posts where we ask one of our volunteers or visitors to say a few words. This is Sam's fourth contribution whilst he works with us as a volunteer.
A Visitor's Perspective: Sam's Diary – A Bountiful Harvest
November 14th,2014  /  Sam Wilder
In the Game of Throne series a common theme is, "Winter is coming." Unfortunately in Central Portugal we didn't get that kind of warning. After working in the sun for a week the weather drastically changed. Casalinho was suddenly drenched with torrential rain. I went from washing dishes with my shirt off and the sun on my back,  to washing dishes in my poncho in pouring rain. Due to these vast amounts of moisture and frost most of the vegetables had to be harvested immediately. If not, they would quickly begin to rot. This post is dedicated to the bountiful harvest of Casalinho during the arrival of winter. 
I started off by harvesting the chillies: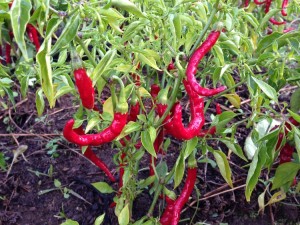 We got about a bucket full of these delicious chillies. They've been spicing up our meals every since. Next I harvested the peppers: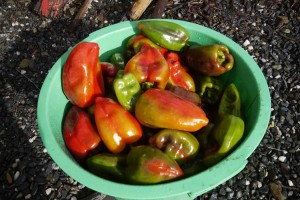 I harvested a massive bucket of these peppers. I love all the red and green mixture of color on these veggies. Since then we've been chopping them into bits for dehydration. After the peppers a fellow WWOOFer Calum and I harvested the squash: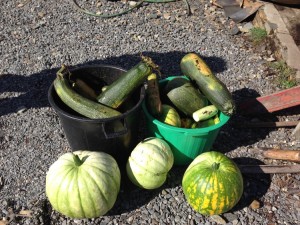 We harvested everything: flowers, fruits, and immature fruits. They all would quickly have rotten if we hadn't. To us these squash seemed gigantic! However, Andrea explained that these squash were small compared to last year. The picture below gives you an idea of how large some of these pumpkins were.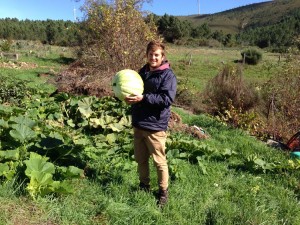 The next day as a group effort we walked over to Casalinho's chestnut forest to harvest the fallen chestnuts. It took a long time, but eventually we got the job done. The fallen leaves and chestnut husks were also collected for livestock bedding and the wormeries.
In this picture we're sorting through all the chestnuts. The small and rotten chestnuts went to the livestock and the big ones went to us! Here's a close up picture of the chestnuts because I think they look gorgeous.
I tried a roasted chestnut for the first time, and it blew my mind!
With rain comes mushrooms. Andrea explained that there haven't been as many wild edible mushrooms this year. But we've still been foraging them. We mostly find large parasol mushrooms. They've been absolutely delicious in soups and stews.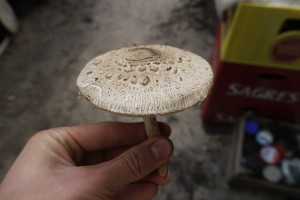 So even though winter has arrived with rain and frost. We're eating very well. A bountiful harvest indeed! 🙂
You can see the original of Sam's article, and read more about his adventures here.