We've won the 2013 WWOOF Host Grant, which we're thrilled about. This is the story of the new shower block we're funding with the grant. 
I recently posted pictures of the intended site of our new shower block, which demonstrated the huge amount of sheer hard work required  before building could begin. We've been blessed with a bunch of volunteers who really would like to see this project through, and they've worked like demons at that digging so that today we're already ready to set up the shuttering for laying the base slab.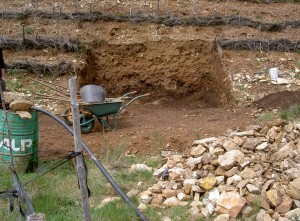 After all that digging, next stage was to lay a foundation of gravel. Gravel isn't something that we're short of as piles of it get swept onto our land via the road water run off every time it rains. Digging it out is hard work though, particularly tough on one of the first really warm days of the year.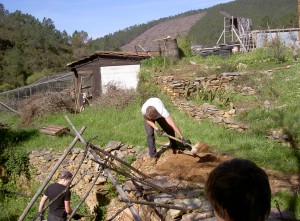 The next days will see building begin. Material for the building itself are now here. The site isn't the easiest to access, and once again we've reason to be very grateful to those fabulous volunteers who have been assisting with hauling blocks and sand to where they're needed.
As with all good projects, we've been tweaking the design of this one as we've gone along and one of the things we've done is increased it's dimensions. That decision has had an obvious effect on the price of the building materials and we've spent far more on these than originally planned.  450€ to be exact. I'm pretty certain we're going to end up way over budget, even with the economies we think we've identified, but we're happy with that if it means we have a shower to be proud of and that can demonstrate how living simply need not be a hardship.
I'll keep you posted!