People Care with Permaculture, with Helder Valente and New School Permaculture.
Monday 12th – Thursday 15th August 2013
Learning to design and care for ourselves, our communities, and the planet.
This four day course is designed to be useful to anyone who interacts with others. So unless you're a hermit, that's YOU!
Have you ever asked yourself one of these questions?
Managing people is so much harder than developing the land. How can I do it better?
Where do I start when trying to create and organise my project?
How do I keep the people involved in my project happy and inspired?
When challenges appear, how do I keep moving forward?
I want to keep inspired and manifest my vision for the future. How can I get support and help others realise their own visions?
Then this course will help you find solutions.
During the course we will explore:
Decision making

Social organisation
Conflict resolution
Power of celebration
Alternative economy
Sustainable community
….. and probably much more …..!
This course will be taught in English by Helder Valente. Helder is native Portuguese, so Portuguese speakers need not worry about translation for troubling words or ideas.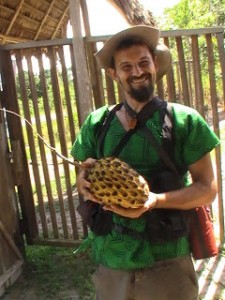 Helder studied permaculture with Bill Mollison and now teaches all over the world. You can read about Helder and see examples of his design work here.
Helder facilitated a well received Introduction to Permaculture and Permaculture Design Course here earlier this summer (read one participant's story here), and we're looking forward to welcoming him back to Casalinho.
…………………………….
 Prices and Payment
The total cost of this People Care with Permaculture course is €250. Combine it with our Food Forests: Gardens of Abundance course 8th – 11th August and pay only €450 in total, saving €50.
The price includes:
People Care with Permaculture course tuition and certificate of completion.
Camping space for your own tent.
Use of compost toilet and washing facilities.
Vegetarian meals. Additional meals available at a small cost if you wish to extend your stay with us following the course, or are joined by a non-participating guest.
Places are limited. Contact us via email to reserve your place and we will provide you with bank transfer details. Or telephone us on (00351) 235512171 or 934542254 (mobile).
A minimum deposit of 50% is payable at time of booking, with the remaining 50% payable on arrival. When your deposit is received we will acknowledge it by email and confirm your place on the course.
Payments cannot be refunded for cancellations by the student less than 10 days before the course commences.
We reserve the right to cancel the course and refund monies paid in the unlikely event of illness or that insufficient bookings are confirmed. We cannot be held responsible for other costs.