This is part of a series of posts where we ask one of our volunteers or visitors to say a few words. Serge has been volunteering with us for some time, and this is the final part of his diary. This instalment covers Serge's last days as a volunteer, and his participation in the recent Permaculture Design Course. 
A Visitor's Perspective: Serge's Diary 
 Any excuse for a puppy picture!
Last days as a WWOOFer – 28th May 2013
My last days as a WWOOFer at Casalinho have been met with a sudden drop in temperature, meaning that we have been back to wearing two or even three layers at the end of May! Not that it has had any effect on our spirits though; Casalinho is currently host to eight WWOOFers, each of whom contributes generously to the lively atmosphere.
Seasonal work continues, including the sowing of seeds and seedlings, watering of raised beds and new vines and weeding. Every last one of the raised beds is currently in use. All the potatoes have been sown and covered with a thick mulch of hemlock harvested from the stream. While we planted them we also dug water channels which will allow for flood irrigation. This is a common sight in Portugal for small-scale cultivation, and it makes a great deal of sense since it requires little or no effort or energy; water simply flows from a water channel straight on to the crops.
Progress is being made with the solar showers, now with a roof and fully rendered on one side, which will be ready for use in time for the PDC. All that's left to do is the floor and plumbing. The fence on the North-West boundary of the property had to be moved since it was incorrectly placed, and so we spent a day clearing a space for the new fence. While digging the undisturbed earth we uncovered a pair of salamanders! A side project, building a short fence to prevent people and animals from getting on the roof of the goat shed, turned out to be very difficult. It made me appreciate why fencing is a trade in its own right: it's bloody hard!
Permaculture Design Course – 4th – 12th June 2013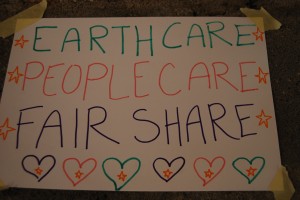 Helder Valente's New School Permaculture certified 10 eager new permaculturists on June 12th after a 9 day intensive Permaculture Design Course (PDC). During that time Helder and his wonderful assistant Karen cultivated a relaxed and healthy learning environment among the students whilst planting the seeds of knowledge passed down directly from Bill Mollinson himself. Apart from the time we spent absorbing information in the classroom (both inside the training room and outside beneath the pear tree), we participated in several practical activities including an 18 day compost pile and (my personal favourite) swale-digging.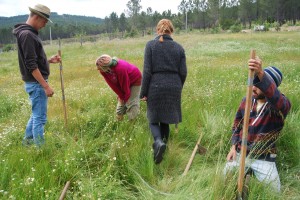 Learning how to use the bunyip to set out a swale
The main focus of the course was the social aspect, which certainly paid off and proved an effective method since the group functioned and communicated flawlessly. All our knowledge and experience from the course was combined into a complete 5-year design and plan for Casalinho. The entire Group participated, covering every single aspect, and the final design was presented to the hosts on the last day of the course. The plan, including scale maps and even product designs, was praised for its down-to-earthness and accessibility. As a group I think we were very proud of it!
The second half of the last day we were debriefed and in the evening we celebrated in the appropriate fashion. The group parted on good terms having exchanged contact details and promises to meet again in the future.
 Presentation time, & Celebrating
The next morning I said my last goodbyes to Andrea and Jeroen and the farm. Thanks very much Casalinho, it's been a wonderful journey and I got so much out ofit – it went beyond my expectations. See you in a few years time (I hope), best of luck in everything!
Thankyou Serge, for all your hard work and your good company during the past months. We wish you well, and are looking forward to seeing you again some day to show you how we've progressed!  Andrea & Jeroen