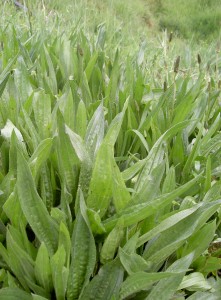 No, I'm not talking about the plantain that looks like a sort of banana, but Plantago major, the ribbed leafed plant which people who don't know better call a weed.
We've loads of it growing at Casalinho and in this 'hungry gap' time of year when last year's stored vegetables are running short and this year's are not yet ready, it's a worthwhile addition to our diet.
I use tender leaves chopped small in salads or cooked wherever I would use greens. This recipe though celebrates plantain as it's centrepiece.
As always with my recipe ideas, the quantities are vague and the ingredients interchangeable! Experiment!
Ingredients
Finely chopped tender plantain leaves
Milk kefir (ours is made with raw goat's milk. If you haven't got kefir use a little milk and a little cheese)
Plain flour
Oatmeal (adds texture, you can miss it out or grind it finer if you prefer)
Egg (holds it together. I find one egg does a batch of about 25 bites)
Finely chopped herbs / chilli / salt / other seasonings
A spot of tomato puree, or a chopped tomato (primarily for the colour, miss it out or swap it by all means)
Method
Combine to make a stiff mixture capable of holding a ball shape. Form lots of bite sized balls and lay on a slightly oiled oven tray. Cover your hands with flour if it starts to get sticky. Bake in the over on a medium heat, turning them over when they start to brown on the bottom.
Eat hot or cold, particularly nice with a sweet chilli dip.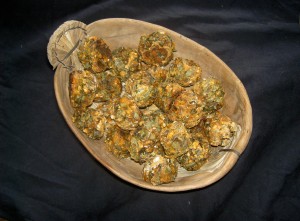 For those who are interested, plantain reputedly has medicinal qualities (I can vouch for it's effectiveness at soothing insect bites)  and can even be dried and used for teeth cleaning.