We're fortunate in that we have a great deal of sheep's sorrel (Rumex acetosella) growing wild all over the garden. It's got a very strong lemony flavour (to the extent that it's known as azeda in Portuguese, literally meaning sour), and is a versatile addition to the foragers collection. A few leaves make a great addition to salads, but it can also be cooked in soups and sauces, or combined with potatoes in an unusual mash.
Sorrel is high in vitamin C, but also in oxalic acid so should be eaten in only moderate quantities by those suffering with kidney stones or arthritis.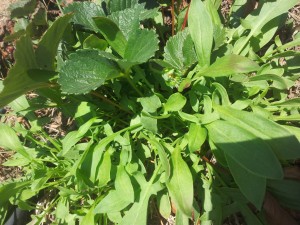 Always keen to try something different, I picked up this idea for a 'pickle' from Glennie Kindred's Letting in the Wild Edges. Coupled with some of our neighbour's honey and a little of our own apple cider vinegar, this sorrel treat has originated all within shouting distance of my kitchen.
To make a small jar, you'll need perhaps three or four handfuls of washed and picked over sorrel. Place it, still wet from washing, in a pan and cook gently until it goes limp and darkens. It shrinks considerably! Combine the cooked sorrel with a tablespoon of honey and a tablespoon of cider vinegar and jar. That's it!
Spread on toast, eat with cheese, dollop some into salad dressing. Enjoy 🙂
I've not experimented with preserving this 'pickle' long term as sorrel grows here almost all year round, but I'd imagine you could use your normal water bath method if you wished.