Many visitors to Casalinho have a similar dream to ourselves, to live a simple life in a beautiful spot. And we would like to see our local community grow. So with this in mind we've decided to start showcasing some of the properties available in our area which may be of interest.
This place belongs to a friend and is in an absolutely stunning location.
2 acre fully off grid smallholding with artist's studios
Off grid living with home comforts! This 2 acre site has a gorgeous outlook, and is a short drive to town whilst feeling totally secluded. It's large enough to grow vegetables and even keep some livestock, without being unrealistically large to maintain. Mature fruit trees. Solar powered, wood heated, with own water supply.
€100,000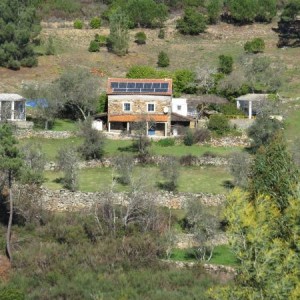 See the owner's description over on our website, or email me and I'll send it together with more photos.