It's over. The focus of my life for the past six weeks, the Sustainable Land Use course, has finished. I'm not sure whether I should be whooping with delight or weeping that it's all over. Certainly I'm happy to have my Permaculture Design Certificate in my hand and a head full of ideas. But I'm also very sad to be leaving behind a bunch of really lovely people.
The course has brought home to me how much I miss a community of like minded people, so I will need to keep this in the forefront of my mind as I move forward. Somehow I'll need to develop some support networks if I'm to continue the impetus that the course has started. I've already started making some tentative links nearer home, and I'll have to make the effort to keep them up.
The Permaculture Design Course we're running at Casalinho in June might help with that, and I'm actually really looking forward to it. I'm interested to see how Lesley covers the subject matter, as I'm coming to realise that everyone's take on permaculture is slightly different. Patrick is very much a no rules type of guy, which suits me perfectly. Perhaps Lesley will be able to help me look to the future.
So it's goodbye to Patrick and the rest of the teaching team, and goodbye to all the wonderful people that I met. I had to race off before the final night party which was a real shame, but a couple of people spoke tentatively about coming out sometime which would just be brilliant.
I'll leave you with my favourite image from the course, Mike Feingold at Royate Hill Community Orchard, part of our day out in Bristol.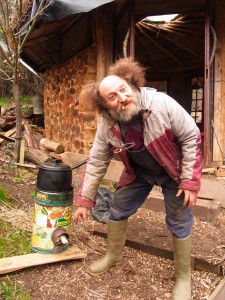 With thanks to Camilla for the excellent photo.