Organic Horticulture: Permaculture Zones 1 and 2, with Rob van Deursen
Tuesday 30th July – Saturday 3rd August 2013
It's not long now until this course, so please do book up quickly as places are limited.
Following Permaculture Design Courses, we've always asked what students would like to learn more about. The actual nitty gritty of growing food is the most common answer, so this 5 day course has been designed with that aim in mind. It's actually for anyone who wants to learn more about growing their own food, and we'll cover that from the planning to the harvesting. This course might be for you whether you're new to organic gardening or just looking to improve your skills and yields. If you have no previous experience of permaculture that is absolutely fine, although you may wish to join Rob for our Introduction to Permaculture weekend conveniently immediately before this course.
In this course, we'll be covering
Starting situation
Design decisions
Yield requirements: crops and quantities
Crop planning, including planning for 'losses'
Land use and labour estimates
Growing strategies (minimalistic vs. intensive)
Companion planting: vegetables, herbs, flowers, shrubs and trees.
Planning and growing for soil fertility
Sessions will include a combination of classroom and practical activities, and you'll have the opportunity to explore the Casalinho vegetable gardens and see the course material in action.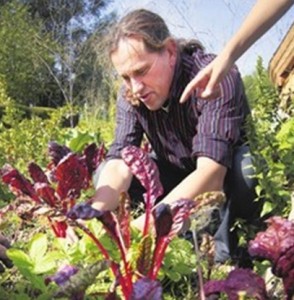 Rob van Deursen was introduced to Permaculture in 2008, and in 2009 completed the a year of Permaculture Training at the Permaculture School of the Netherlands. He is fascinated by Permaculture's focus on complexity and interaction in nature and how it offers practical methods to design in harmony with nature's own principles.
Since 2010 Rob has been developing and teaching courses and workshops on Permaculture Design, and he's currently working as a Permaculture Designer and Coach to several emergent communities. In all of Rob's work as Designer, Coach and Trainer he strives to provide hands on ways to design productive landscapes.
Prices and Payment
The total cost of this Organic Horticulture course is €250.
The price includes:
Organic Horticulture course tuition, practical sessions and certificate of completion.
Camping space for your own tent.
Use of compost toilet and washing facilities.
Vegetarian meals. Additional meals available at a small cost if you wish to extend your stay with us following the course, or are joined by a non-participating guest.
Places are limited. Contact us via email to reserve your place and we will provide you with bank transfer details. Or telephone us on (00351) 235512171 or 934542254 (mobile).
A minimum deposit of 50% is payable at time of booking, with the remaining 50% payable on arrival. When your deposit is received we will acknowledge it by email and confirm your place on the course.
Payments cannot be refunded for cancellations by the student less than 10 days before the course commences.
We reserve the right to cancel the course and refund monies paid in the unlikely event of illness or that insufficient bookings are confirmed. We cannot be held responsible for other costs.