So the wrapping paper has been composted, the duck bones have been boiled for every scrap of broth, we've baked cookies on the hobo stove and we've enjoyed many good times with our wonderful volunteers Jennifer, Brandon and Ste. I guess that means the festivities are over for another year.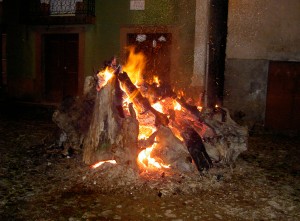 On Christmas Eve we enjoyed a bonfire and meal in Unhais o Velho with the young people of the village. Some we'd met before and some we hadn't, but it was heartening how many were truly interested in what we're doing here at Casalinho. This has been mirrored in the number of enquiries we've had recently from Portuguese volunteers. In fact, we're pretty much fully booked until April already which is quite astonishing.
So what's in store for 2012? Who knows, but I'm certain that this is the year when things will really move on for us here at Casalinho. We've been here long enough now to have observed, to have tried and tested some ideas, and to have some firmer plans for the future.
A happy and peaceful New Year to friends old and new.
xxx