Yesterday we sadly waved goodbye to our most recent group of Scouts, who made their annual camp here at Casalinho. I seem to be forever making excuses for not updating this blog, but it's been a busy ten days!
So a heartfelt thanks go out to the fourteen members of Les Pionniers de Limal, Belgium (pictured here with volunteers Julie and Victor). What a fabulous group of young people 🙂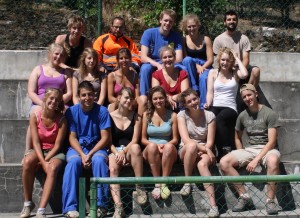 Grass is enemy number one when it's growing under young fruit trees so one group of Scouts worked really hard on removing it and laying a thick layer of mulch underneath all the orchard trees and vines. Another group made a superb start on clearing a path up into our forest; improving access, reducing the fire risk and providing us with a big pile of firewood, cones for firelightling and stakes for use in the garden.
The highlight of the visit was the two days spent working alongside our other volunteers cleaning and painting the football and picnic area in Malhada do Rei. The local community had the materials but not the manpower, so Jeroen arranged for the Scouts to step in and donate their enthusiasm and energy. They were rewarded with a superb barbecue prepared by the team at the Casa de Convivio and enjoyed in the newly painted picnic area, now signed with the Scouts' emblem.