Phew! The last dorna full of fermented juice has now been transferred into the last barrel. So that's the bulk of the wine making completed for the year. We can sit back now and dream of a merry new year. There's nothing better than a glass of your own homemade wine infront of the woodburner on a winter evening.
Apart from a glass of jeropiga.
Jeropiga has to be my absolute favourite alcoholic drink of all time. It ticks all the boxes for taste, being deliciously fruity and sweet (like me? :-)), and it's strong enough to have a kick without kicking you over. It's a combination of grape juice and the grape based liquor aguardente.
So, before the equipment gets packed away for another year those final grapes need to be harvested. Out comes the grape squisher again to juice the grapes. Thankfully we're talking smaller quantities than for the wine, so I've done this with my potato masher too.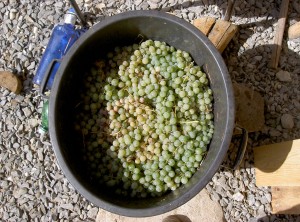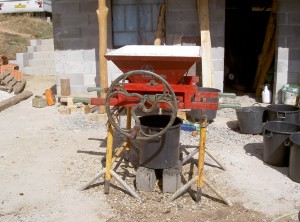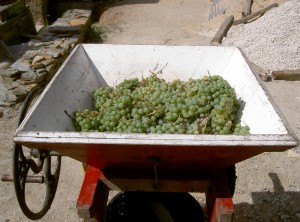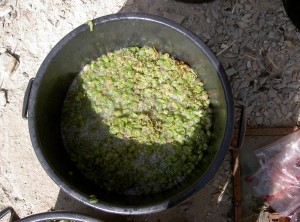 Next, we strain the juice off the pulp. Starting with my kitchen colander, then fine sieve with my kitchen sieve. The bits of grape skin are now so firmly embedded in my poor sieve that I think the poor abused thing will have to find a permanent home with the wine making gear. The pulp goes into one of the dornas along with the wine making leftovers. Nothing gets wasted, it'll be distilled into aguardente in due course.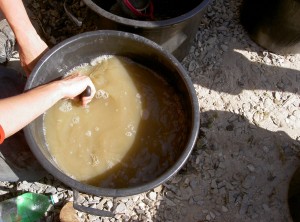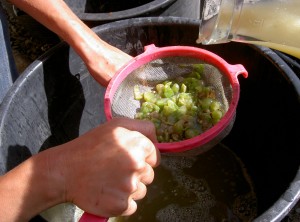 Now we blend the pure grape juice with aguardente to taste, about 3 parts juice to one part aguardente, and leave for 2-3 weeks. Seal off your buckets or barrels to prevent evaporation of the alcohol. The room we laughing call the bathroom (one day, one day …) is currently full of buckets awaiting decanting. So much promise! Last year we managed to drink it all before it made it to bottling, this year we vow to have more self control 😉