This week we attended a marvelous open day at a local project, Monte dos Carvalhos. The theme of the event was Local Economy so we were asked if we'd like to put together a stall showcasing some Casalinho goodies.
After a shared lunch there were simultaneous tours in English and Portuguese. Barbara at Monte dos Carvalhos offers natural building workshops and there are some great examples of her work to see.
Following the tour groups broke away for discussions on the theme of local economy whilst Xico the donkey entertained the children. What a charmer he is!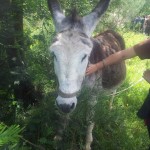 A really lovely day where we had the opportunity to meet new people and enjoy a different space. With much appreciation to the Monte dos Carvalhos team for their warm welcome.
You can read Monte dos Carvalhos' own blog piece here.