In the manner of goats everywhere, Kylie has again surprised us. Horny and Misty have been wandering around like overstuffed sofas for weeks and weeks, but Kylie just started looking a little more solid than normal about ten days ago. I'd realised she was pregnant, obviously, but not appreciated quite how far along she was. So the two little goat kids found in the shed on Sunday morning were a bit of a shock!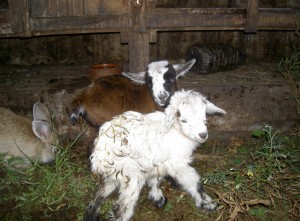 Here they are at just a couple of hours old. For the uninitiated, the one with the big ears is a rabbit! The little white kid had me quite worried as she was struggling to stand on one of her back legs, but within no time the ligaments has tightened up and now she is bouncing around with her brother.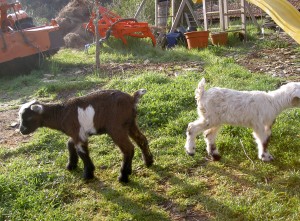 What a difference a day makes! And now I realise why it's said that photographers should avoid working with animals!
Don't forget that we're running Permaculture Design Courses here at the farm this summer. Join us!