We're planning a windbreak and privacy screen along the road. With our neighbour having clear felled his forest in the summer and the 'improved' road being higher than the level of our land this is becoming increasingly urgent.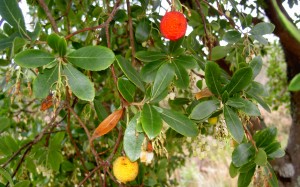 So what to choose? We've decided that the bulk of the hedge will be medronha (Arbutus unedo or strawberry tree). It's a fabulous multi purpose small tree or shrub which you're likely to have seen growing all over the hillsides if you've visited this region. It will act as an all year round windbreak and privacy screen as it is evergreen, and it is low maintenance and grows well in this environment. Any prunings will provide fodder for the goats, who adore it. It grows a small fruit in sunset colours which provides a food source for birds (very welcome in an area dominated by pine monoculture), can be used to create jams and sauces, and of course can be fermented to make medronho. This last use fits in very well with our existing wine and liquor making activities.
Individual medronha plants are not expensive, but our first row of windbreak requires 150 seedlings and it soon adds up.
So I was thrilled when a supporter of Casalinho's projects offered us an opportunity to work with her to the benefit of us both. She is offering us one free medronha tree for each of her spectacular 'threadpens' sold to friends and supporters of Casalinho this month 🙂

"Threadpens are elegant, handmade pens which can be handcrafted with any name, colour scheme or pattern and would make spectacular stocking filler or Secret Santa gifts. Each pen is lovingly woven with a completely unique, intricate cotton wrap, finishing with a tassel flourish. Beautiful and unusual, Threadpens will invite admiration wherever you go, and are almost too good to write with!"
At £3.50 each (about €4.40) they're also very affordable.

Order your Threadpens via Etsy, Folksy, or via the 'Threadpens by Ginny' Facebook page. Or if you prefer, place your order directly by email. Let Ginny know you're a supporter of Casalinho, and she will gift us one tree for each pen you purchase. Remember, we need 150! Be quick if you're wanting them in time for Christmas, each pen is made individually.
Thankyou, as ever, for your support. Casalinho would not be the place it is today without the help and support of so many people.