This is part of a series of posts where we ask one of our volunteers or visitors to say a few words. Serge is one of our longer staying volunteers, and has kindly agreed to share his diary.
A Visitor's Perspective: Serge's Diary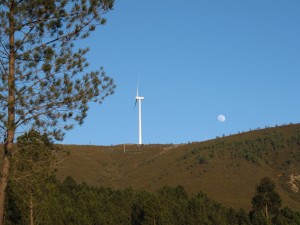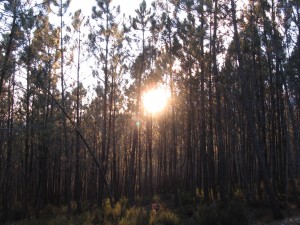 It's lovely to see some blue sky 🙂
My 8th day at Casalinho, and time is flying. I am learning a lot about permaculture and agriculture thanks to the books generously lent to us WWOOFers from Andrea and Jeroen's own collection. Combined with the practical work, it is proving most educational.
Much better weather has also contributed to an improved stay. We are now comfortably able to have lunch outside, though the nights are still cold.
Since I haven't been very regular in writing I have decided to make a list of highlights of the last few days. They are as follows:
-Going for lunch at a proper workers' restaurant in Casal de Lapa. Delicious soup, chanfana (goat stew, a local speciality) , desert and wine for only €7.50 a head! Hard to beat.
-Bathing in the spring- now that I'm better accustomed to it (and find it easier to sum up the courage!) I am doing it every two days. It is a thoroughly refreshing experience… though I still wouldn't say no to a hot shower every once in a while.
-Milking the goats- I managed to draw milk on my first go! Apparently I'm a natural. The trick is not to be afraid of giving the udders a good squeeze.
-Pete, our in-house carpenter, setting up a door and straw-bale sofa for our comfort in the training room. It doesn't sound like much, but one appreciates the simple things more as a WWOOFer.
-Tasting a wide variety of local 'tinto' (red wine).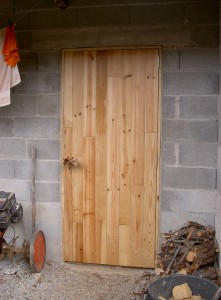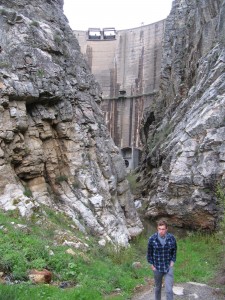 Left: Pete's newly erected door makes a huge difference. Right: Serge below the Barragem de Santa Luzia at Casal da Lapa.