So what's the deal?
Volunteers are asked to work 25-30 hours a week around the farm in exchange for their meals and basic accommodation.
What sort of work will I be asked to do?
Anything and everything! The vegetable gardens and animals are where most of the daily work lies, but we often need help in the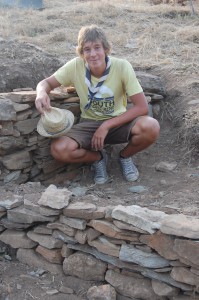 forest or orchard, with clearing land, with building or with other specific projects. If you have specialist skills it would be great to know about them in advance so we can plan projects you can be involved with.
We want everyone to enjoy their work, so do discuss with us if there's anything you love or hate doing and we'll try and accommodate if we can. Bear in mind that part of the experience is learning what life on a smallholding really involves! It's not all butterflies and cuddly lambs!
Everyone is expected to help out with cooking, washing up etc. This is not counted as part of your 25-30 hours working hours, but shouldn't take long.
Can I work with the animals?
Working with the animals could involve feeding them, cleaning them out, moving the goats around, collecting their green food or milking. Everyone will be expected to help with collecting food for the animals and cleaning their accommodation.
For the comfort of our goats and to make sure we remain at maximum productivity it's important that we don't have too much disturbance at milking time. We'll always try and accommodate if you'd like to try your hand, but please appreciate that this won't always be possible, particularly if you are not planning on staying with us for long.
Do I need experience or special skills?
The most valuable things you can bring with you are enthusiasm, flexibility and a willingness to get stuck in. We will show you what needs doing and encourage you to ask questions, but please bear in mind that we have a lot to do and you might need to work alone.
Do I need insurance?
Yes. You need to ensure that you are covered for damage to yourself (accidents, illness and medical expenses) and damage to ourselves and our property (civil liabilities towards third parties). You are responsible for your own medical expenses, repatriation should it come to it, and for any damage that you cause.
Check that your ordinary travel insurance will cover you whilst you are volunteering. Some won't.
WWOOF Portugal suggest OV Europa or World Nomads, who both offer policies designed specially for those doing volunteer work. As always check the small print. We've never used either company, but if WWOOF are suggesting them then we think they're probably worth checking out.
Please ensure that you know how the Portuguese healthcare system works for travellers of your nationality and can provide the correct paperwork in an emergency. Not all European countries have a reciprocal agreement. We won't pay your medical bills if you don't get this right.
We ask all volunteers to supply us with a copy of their passport and emergency contact numbers on arrival. It's also a sensible idea to ensure that copies of insurance policies and any other paperwork are easy for us to find in an emergency.
Whilst we're talking about insurance I can't stress enough that while you are working on the farm you are responsible for your own safely and we expect you to take reasonable care to ensure the safety of others and the security of our property. We'll give you the best instruction that we can, but if you don't understand or don't feel comfortable with a task then speak up. We cannot read minds (despite all our other superhuman qualities

).
How about days off?
We work seven days a week, so your days off can be arranged to suit. As we don't have local public transport at weekends most of our volunteers opt to take their time off during the week. We've no objection if you would like to save up your time off and use it for a trip away from the farm to explore further afield.
How can I reach you by public transport?
You'll find public transport details here .
What should I bring with me?
Take a look at the section called Packing. It's intended as a guide, so please ask if there's something specific you've got in mind.
What is there to do locally?
Bars – There are several local bars within walking distance, a couple incorporating basic shops.
Swimming – In summer you may choose to swim in the local river spots, or in the free outdoor pool at Meãs.  There are indoor pools in Pampilhosa da Serra and Fundão, both accessible by bus.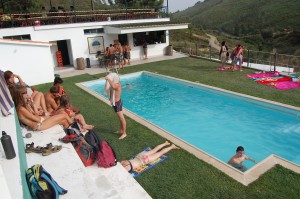 Barragem de Santa Luzia – This large lake offers fabulous walking, swimming in summer plus canoes for hire, and a lively bar with wifi access. There's a reasonably priced local restaurant close by which serves local specialities like chanfana, a rich goat stew. A walk all the way round the lake should take around 6 hours or you can just wander more locally.
Walking – The whole area is great for walking with many peaceful tracks and little villages to explore. If you're up for some more serious hiking it's worth it for spectacular views. We're within sight of the Torre, the highest mountain in continental Portugal and part of the Serra da Estrela mountain range.
Local markets and shopping – There's a weekly market in Fundão each Monday and a fortnightly one on Thursdays in Pampilhosa da Serra. Pampilhosa da Serra is a small town with a post office, theatre, library, plenty of local restaurants and bars and all your basic shops. Fundao is larger. Both are accessible by bus.
We realise it's quite a distance to travel to local supermarkets etc for snacks and 'extras' so our eldest son runs a 'tuck shop' for the benefit of our volunteers where he sells a range of drinks, snacks and essentials. This is an educational maths project for him and he's learning fast!
Can you cater for special diets? What's the food like? Who cooks it?
We serve three simple but pretty substantial meals per day. Breakfast is generally cereal or bread, lunch is something light like soup, salad or bread with home made cheese and chutneys, and dinner is generally a cooked meal.
We do eat meat, but most meals are vegetarian as we consider meat to be a treat. We use as many home produced ingredients as possible, so you'll be eating the profits of your work!
Please have the courtesy to let us know if you have special dietary requirements and we'll do our best to accommodate. Vegetarian and vegan are no problem, but please still let us know. Generally we will ask you to provide any foods which we would not normally buy for the family. The key is in communication! Please don't arrive with a list of things you must have and expect us to have them in the cupboard.
We'll normally do the bulk of the cooking, but we do expect help with veg preparation and washing up. If you'd like to cook us a special meal from your area we'd be thrilled!
We don't supply between meals snacks or drinks but we operate a 'tuck shop' if you'd like to purchase these sort of things.
Is there internet access?
We currently don't have internet access for volunteers at the farm, although we are hoping to soon. If you have your own laptop you will be able to use the wifi provided by the local council which is open office hours in Unhais o Velho or 24 hours in Pampilhosa da Serra. If you don't, there are a couple of internet enabled computers in São Jorge de Beira Post Office or larger facilites in Pampilhosa da Serra and Fundão libraries.
If you bring a laptop you will be able to recharge it at the wifi centre in Unhais o Velho, but we cannot offer recharges at the farm unless our generator is on.
How about telephones?
There is only one mobile network which works in the area, which is Optimus. The signal isn't great at the farm but if your phone has roaming it should pick this up (and will probably work better than ours!). If you want to buy a Portuguese SIM card on your journey down here please choose Optimus as others will be useless! There is a package on Optimus called TAG which allows you free calls and texts with other TAG users (pretty much everyone in our area, including us) which might be worth considering if you intend to stay with us for a while.
You will need to recharge mobile phones at local bars or the internet facility. We can only do so at the farm when our generator is on.
We have a landline telephone for emergencies.
Can I bring my children?
We love hosting children along with their responsible parents. All families are different so we have no hard and fast rules as to how to manage the work / family balance. Older children may be able to work for their own keep, but where younger ones are concerned some parents prefer to work additional hours to cover their food costs whilst others prefer to provide some of their own meals or pay us for them. The best thing to do if you'd like to bring your children is to start a dialogue early on, letting us know how you think it could work and we'll go from there.
Can I bring my pets?
We'd prefer you didn't, to be honest, but we're open to discussion. We have four largish dogs and cats too. They aren't very keen on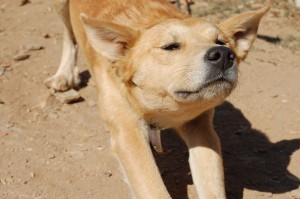 other animals intruding on their territory, and we do have the farm animals whose welfare we have to consider. However, if you think your pet could fit into this environment without causing too much disruption then please feel free to have a chat with us about it. From previous experience, female or older dogs don't upset ours nearly as much as young males. If you bring a pet, we'd really expect you to have your own live in vehicle in which to keep it and we'd expect you to be willing to tie it up or lock it up if we thought it necessary (when our chickens are free ranging for instance). Bear in mind that although it's common to see loose dogs in Portugal it's actually not allowed.
Don't even think of arriving with a dog and not discussing it with us first.
Can you accommodate groups?
Absolutely! We hosted our first Scout camp summer 2010, our second summer 2011, and enjoyed both so much that we'd love to welcome more groups!
Have you got space for camper vehicles?
We do, but let us know in advance to ensure that we have space.
How about smoking and alcohol?
What you do in your own time and space is your own business, but please bear in mind that this is a family environment and we don't welcome drunken singing at 3am!
We can provide you with home made wine, aguardente and jeropiga, either to drink here or take away as gifts. We normally have beer in the tuck shop.
We do not allow smoking in the caravans. If you're a smoker we ask that you're meticulously careful with your butts. Not only is it horribly impolite to leave them lying about, but they pose a serious fire risk in a dry climate like ours.
Can I do my laundry?
We have a traditional washing facility for you to scrub your laundry in. You can buy ecologically friendly, locally made, laundry soap from our shop or bring some with you, but we do insist that you use it to avoid polluting our water.
Can you tell me about your bathroom facilities?
We have a dry compost toilet which deals with solid waste in an ecologically friendly way. Don't worry if you haven't used one before, we can explain the system.
If you just need a wee we subscribe to the picnic wee method and use the surrounding bushes. If that's too free range for you then you can keep a bucket in your caravan or tent.
In the summer we wash in the local river which is a quite wonderful experience and something that some of our previous volunteers have commented has been one of the aspects of their stay that they've really enjoyed. Each Spring we dam an area next to the farm. Please ensure you bring ecologically friendly toiletry products with you to ensure that you're not polluting this resource. We try and stock some basics like soap in the shop. When the weather is colder you will probably prefer the hot water in a basin method!
Unless you've not managed to work this out alone, it's worth pointing out that this is not the place to come if you are looking for a daily wallow in a bubble bath followed by blow drying your hair!
Better facilities are high on our list of priorities and something that you may be working on during your visit. We are just building some solar showers, so this facility should be available very soon.
What should I do with my rubbish?
We'd rather that you didn't produce any to be honest, but that's probably unreasonable! But please consider packaging when making purchases. We'd rather reuse than recycle, so if you're throwing out anything that you think could be reused please flag it up. Food waste goes to the animals and anything else organic like card, tissues or natural fabric goes into the compost. Otherwise we take recycling and rubbish into town when we go. Many guests decide to lighten their luggage load whilst they're with us, so if you end up with any clothes or shoes you'd prefer to leave behind we'll put them aside for other volunteers rather than throw them away.
If we haven't answered your question, please don't be afraid to email us!
Here's a link to the WWOOF Portugal FAQ. You might like to try there.