Alasdair Murden, UK,
Workaway volunteer:
It is hard not to be stunned by the size and scope of the Casalinho enterprise. Andrea and Jeroen's undertaking is a magnum-opus of design, application and commitment.

Their permaculture project, nested deep within the dramatic tumults of the Portuguese heartland, is a comparatively infant project with fabulous potential for knowledge and skills-based learning. It was my first-ever volunteering gig. With their assured and informative guidance they will ensure that what you do is constructive to the greater picture of their project, meaning that you can observe how your efforts will contribute to an ever-evolving jigsaw of permaculture design. All you have to do is offer around 30 hours a week of your time.

From the science of composting to the timing of crop seasons, from cheese making and goat milking to the primordial satisfaction of breaking boulders and splitting logs, they are all (to name only a few) ever-present tasks at Casalinho. So, for those who might feel that they have nothing to offer, don't worry; no prior knowledge is assumed – the only passport is an eager pair of hands.

Raging heat, starry nights, fat moons and even the odd surprise thunderstorm to add extra spice are all features of the weather, so be mindful with outdoor work. Heed your host's advice about the environment and the project – they only want you to be aware so that you can enjoy your experience as fully as possible.

I've made some great international friends on this farm and I've learned a great deal from everybody there. We swapped stories, addresses and contact details. To this today I communicate with them and hold plans for the future to revisit and catch up. I sincerely wish that Andrea and Jeroen will continue to be among them.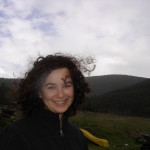 Rachel, California,
WWOOF Volunteer:
I've spent one beautiful month in spring and three diverse fall months at Casalinho. Andrea and Jeroen always have a multitude of projects going, aided by their evolving team of international volunteers.

They welcome each new volunteer with a smile and a personal tour. They listen to what you want to do and what you can do, and then set you up on a project or two. They are flexible, going along with the individual's pace and style. I spent time preparing beds for planting, seeding, planting seedlings, weeding, pruning, harvesting, and clearing. I've helped milk the goats, sort the rabbits, and round up the chickens. Dishes and meal prep are all in a day's work. The dogs will accompany you wherever you go, and the cats might grace you with their presence. Danny will come and chat with you as you work; Rowan will drag you by the hand to see his favorite toy or help him with the "work" he is doing. Digging ditches or holes, moving stones, sorting firewood, gathering food for the animals and the people: so much needs to be done: everything you do there is useful.

The attitude of 'make it work' shines through in Andrea's creative ideas for using, reusing, repurposing, and redefining what is around you; in Jeroen's ability to MacGuyver together anything you need help fixing; and in the acceptance and spirit of cooperation with which they host their guests.

Life is simple: savoring the flavors of the fresh vegetables you've just picked and are eating with lunch; the walk down the road or along the river to go into town; crisp fall nights sitting under the stars, talking and laughing with new friends; hot days in the sweet sun and a good day's work.

I had an injured foot when I first arrived. I had advised Andrea of this ahead of time, unsure if I would be a burden. She agreed to take me on anyway, and set me to chopping fruit for jam whilst I became acquainted with Rowan. Instantly at ease, I found myself living a busy and varied life.

With work to do, the family and guests and villagers to get to know, and the beautiful setting to just be in, I found my wandering urge and my unsureness settled. As I worked, my mind meandered its way to some serious introspection and reflection. I discovered a greater understanding of what I like and why, who I am and who I want to be, and how life should be.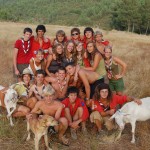 Adeline Thimister, Belgium,
Scout Leader & WWOOF Volunteer:
Casalinho e Escabelado is a really great place to stay and have a good time with great people. I really enjoyed my stay at the farm, in a beautiful area, next to a barragem (dam) and lovely spots. I'm a scout leader and we were in camp at the farm with my seventeen scouts during two weeks in August for work, it was a wonderful experience for all of us. Thanks to Andrea and Jeroen, our warm and welcoming hosts!
To read more from previous volunteers please check out our references on WWOOF Portugal, the exchange programme that we've been working with for longest. Click on 'references' on the left hand side of the page.