Our weekly round up of what volunteers have been doing at Casalinho, our developing permaculture project in central Portugal.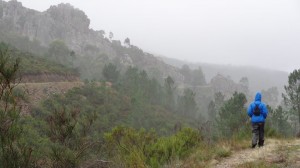 Katinka's marvellous photo above sums up this week's weather. It's been grim! But our intrepid volunteers have been cracking on in the drier patches.
Left to right, up to down:
1) Fabulous colour combo from the garden!
2) Collecting grasses for the animals. What they don't eat provides the basis of our compost, and the chickens have a great old time scratching through it for the worms and other bugs which come to inhabit it.
3) Cleaning out one of the goat pens.
4) The wine has now been transferred into wooden barrels where it will go through a second fermentation. I've been boiling up water in our 5 litre kelly kettle for cleaning the barrels out. Love this piece of kit!
5) Minea continues in her role as Casalinho's resident hairdresser.
6) Picnic on the mountain.
7) Below. Red sky at night, shepherd's delight. Let's hope so!