Wikipedia tells me "Plants of Cytisus scoparius (broom / giesta) typically grow to 1–3 m tall, rarely to 4 m." We've been cutting down specimens easily 6m today.
We're so happy to see these go. Broom is incredibly flammable, and having a giant impenetrable thicket of them (belonging to our neighbour) so close to the house has been a constant worry.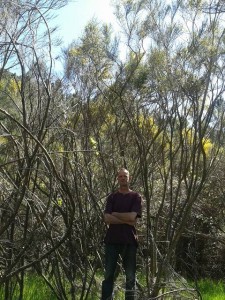 Still a few spaces on our Permaculture Design Course beginning 25th May. Care to join us?