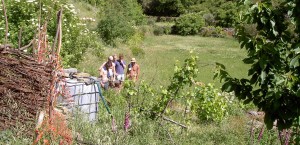 Project Tour
For those who simply wish to see the project we offer a guided tour by appointment. We'll talk you through what we've done, what we'd do differently next time, and what we're planning to do next. The tour takes approximately 1.5 hours and you can combine your tour with a shared lunch for an extended chat should you wish.
Tours in English, although Portuguese or Dutch also possible.
A minimum donation of 20 euros per person, minimum 2 people, is expected. Lunch is included, if you would like to join us.
Email us to book a tour.